12 anonymous guests on-line.
Shoutbox
News
The SunLit CS:Source Server has been updated and is again operational.

SunLit CS:S
67.18.13.94:27095




| | |
| --- | --- |
| Saturday, December 04, 2004 | Comments? |
SunLit now has an Half-Life 2 Deathmatch server up and running.
Still lots of things to work out, but it seems to be running OK with 14 players.
Go check it out :)

SunLit Source of Horrors
IP Addr: 67.18.13.94:27115




| | |
| --- | --- |
| Wednesday, December 01, 2004 | Comments? |
Half Life 2 Death Match has been released over Steam.

A Half-Life 2 update has been released via Steam. Please restart Steam to apply the update.
Included in this update:
Half-Life 2: Deathmatch
* New multiplayer game featuring physics simulation system

Half-Life 2/Source SDK
* Includes game code needed to create Half-Life 2/Source MODs
* Ability to edit Half-Life 2 maps
* Maya model exporter
* 3d Studio Max model exporter source code
* Sample MOD with vehicles

Source Updates
* HTTP and non-HTTP map auto downloading functionality * Enhanced dedicated server logging capabilities * Various tweaks and fixes

*Also: A Half-Life 2: Deathmatch Map Making Contest has been announced. The winning entry will receive a cash prize of $5,000. Two runner up entries will receive a cash prize of $3,000.


| | |
| --- | --- |
| Wednesday, December 01, 2004 | Comments? |
Looks like some party is attempting to ferret out Steam user information.
"Never send out your username and password to anyone.
This should be commonly known but in regards to this mail I thought I should mention it here again.
So if you get a mail like the one below, just delete it and don't pay any attention to it."
Source


The SemiFinals are complete.
Close fought matches in both arenas.
Final Scores:
HoD 411 - Skullz 329
GsS 487 - [415] 304

There will be no matches this weekend in light of the Thanksgiving Holiday.
The Finals will be between [HoD] and [GsS] on Cr44a the weekend of Dec 4.
Please work out a mutually agreeable date and time and let John and I know :)


| | |
| --- | --- |
| Monday, November 22, 2004 | Comments? |

There is a "fix" for some of the HL2 in game crashes.

"A small number of Half-Life 2 customers have been experiencing problems while playing the game, and we have traced these issues to corrupt Steam cache files. We've released a Steam update to help resolve these issues. If you have been experiencing problems such as crashing during gameplay or startup of Half-Life 2, please restart Steam and then click on on the lnks on the Steam News page. Steam will then automatically verify your cache files. The verification process will take roughly five minutes to complete.

We're also investigating a solution for the sound skipping problems a small number of users are running into. We'll have a solution for this as soon as possible." - STEAM


| | |
| --- | --- |
| Monday, November 22, 2004 | Comments? |
HL2 is officially being released tomorrow at the same time world wide.
Quite the marketing gimmick. :)
Those of you who have preloaded HL2 will be able to unlock it a the designated time.
Ripster has posted the times by GMT zones in the forums.

Today is a good day for cleaning out any spyware, defragging hard drives and updating drivers.
Once your HL2 has been activated, you can right click on HL2 in the Games menu and choose "Back Up Game Files".
Keep your "copy" safe.


| | |
| --- | --- |
| Monday, November 15, 2004 | Comments? |
SLDL Regular Season is completed.
The scores on Sulz were:
D#| 2005 - RBP 246
NOL 1340 - Toon 401
Skullz 1449 - HoD 627
GsS 1066 - 907th 478
415 2320 - GL 221
I&S - BYE

That put the following teams in the top 4 positions:
First: HoD
Second: 415
Third: GsS
Fourth: Skullz

The upcoming weekend will see Skullz go up against HoD for the third time.
The 415 will face off against GsS, both team tied with a 10-3 season.
The public will be able to view the matches on SLTV, more details to come .
Map: 1939_b11

Congratualtions to all the teams on a hard fought season and hope to see you in the next :)


| | |
| --- | --- |
| Monday, November 15, 2004 | Comments? |
Sunday 4pm est
415 vs GL - Blast Furnace

Sunday 9pm est
GsS vs 907 - Blast Furnace
I&S Bye
Schedule Page has been updated

Results:
D#| 2005 - RBP 246
NOL 1340 - Toon 401
Skullz 1449 - HoD 627



| | |
| --- | --- |
| Tuesday, November 09, 2004 | Comments? |
Thought we could run the map dod_carentan on the Annex today for the benefit of those who have matches on it in SLDL.

I'm going to start it now and run it for a few hours.

If you get sick of it, there's always Futurama, which will be running a normal mapcycle.

And good luck and hard fight to all those who have an SLDL match today :)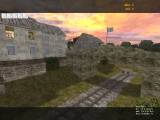 | | |
| --- | --- |
| Sunday, November 07, 2004 | Comments? |
One of our regulars, Neutrino, has come up with a neat map especially for Halloween called dod_happyhalloween. Neutrino also finished a great new (and more serious) map, dod_koln_b3. This is a remake of the classic DoD map, dod_koln, with updated textures and new layout. It is very impressive looking.

These two intriguing maps from Neutrino prompted me to find a few more to put out a quickie map pack for our community. I found another Halloween map, dod_halloween, so I thought I'd throw that in there, too.

I also found a version of an old favorite of mine, dod_mort, that works with DoD 1.x. If any of you don't remember or aren't familiar with this great map, it is very small and the action tends to be fast and furious. There is a small bridge between two buildings in the middle of a village, with a 3-man flag.

As long as we're reviving a few classics, I thought I'd also bring the original version of dod_clervaux back to life as well.

Ladyhawk had requested dod_devastation_b10, so I've included that, too. I haven't played this updated version, but I'm interested to see what it's like. Another request some people had made a while ago, but I never got around to including, was dod_legoisland. There's also a dod version of the CS classic, dod_dust.

Some map thumbnails are below for you to check out. You can download all these new maps on our DoD Map Pack page (scroll down and click on "SunLit Map Pack #14").

I'll be putting up a new mapcycle shortly on Futurama that will include these new maps. Happy fragging!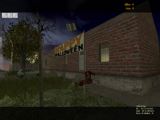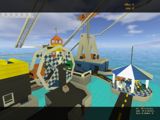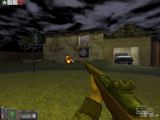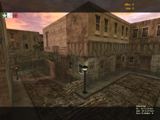 | | |
| --- | --- |
| Sunday, October 31, 2004 | Comments? |
Our experiment with the AMX mod on the Futurama server is over. We've decided against AMX, and have reverted to using Admin Mod.

Just an FYI :)


| | |
| --- | --- |
| Monday, October 18, 2004 | Comments? |
We have a new mapcycle up for the Annex.

The Annex mapcycle is nearly completely different from the Futurama one. So, if you get bored with the maps on one, head to the other for something different :)

This new mapcycle contains all the maps remaining in the SLDL this season, as well as a few other custom maps we haven't seen in a while and two of the best custom maps from the latest map pack (#13), dod_snowcity_v3 and dod_veghel_b3.

All the custom maps alternate with standard maps so as to attract some new players on occaison. Whereas on Futurama the pattern is "two customs, one standard", the pattern here is "one custom, one standard."

The more frequent standard maps mean that the Annex is generally the place to go if Futurama is empty (such as the daytime during the week), as it should quickly attract players. And of course, automatic map downloads are enabled so as to keep those new players around when the map changes.

You can see the new mapcycle for the Annex here.

Enjoy :)


| | |
| --- | --- |
| Tuesday, October 12, 2004 | Comments? |
A few people had suggested in the forums that we do a new mapcycle for Futurama and offered a number of suggestions. I've taken all the maps everyone mentioned and put them into a new mapcycle for Futurama.

I think the maps people expressed a desire for make a nice mapcycle. I did add a few standard maps as well, to keep the "two customs, then one standard, then two customs..." pattern intact (so as to draw some new people on occaision).

You can see the new mapcycle for Futurama here.

Sorry for the delay in getting this together, but I had to make up the ".res" files for many of the maps so that the auto map download feature would work correctly.

Enjoy !


| | |
| --- | --- |
| Tuesday, October 12, 2004 | Comments? |
Counter-Strike:Source (CS:S) has been out for a day now. I have had a chance to set up a new CS:S server and try it out. I thought I might offer observations from two perspectives. Firstly, on the game itself from the point of view of someone who never really played the original Counter-Strike and is mostly interested in the Source Engine and what it will mean for other Source-based mods. Secondly, from someone who operates a game server.

Playing CS:S

As many people have observed elsewhere, the graphics are just awesome. Most objects and structures in the game look sharp, textured, and about the way you would expect them to in real life.

But it's not simply a matter of increased levels of detail or resolution. The whole virtual world is much more realistic. Things don't just look realistic, they act realistic. In the current version of DoD, when you shoot a barrel it makes a metalic sound. But the barrel doesn't move. Shoot a barrel, or bump into one, and it will move -- roll, topple, etc. -- whatever is appropriate to the action taken towards it.


A great example of the depth of realism possible with the new Source Engine can be found in the marketplace area in cs_italy (pictured at right). Bump into the table in where all the fruit is displayed for sale and you can knock the watermelon in the milkcrate off the table. When they hit the ground, the milkcrate tips over, and the watermelon rolls across the ground in exactly the manner one would expect an object of that shape and weight to do so. Shoot the watermelon with your gun and it explodes, showering the area with pieces of watermelon with the red bits inside now visible.


Water is another thing that looks and acts much more realistically with the new engine. Check out the picture at left from the map de_chateau. Notice how the building outside the hole in the wall is reflected in the water in the bottom left of the picture. It is brighter outside, and so the building is reflected. Inside, on the right hand of the picture, you can see through the water.


The player models look very nice as well. They seem to move fluidly, and have lost the obviously angular look of HL1 models. You can't see any hard edges in the faces like you can with the old engine. And something someone has already mentioned in our forums is the incredible shadows that are dynamically generated as players move around -- very cool.

The new graphics engine seems to be reasonably efficient. I have a fairly up-to-date computer (AMD64 3400 CPU, nVidia 6800 Ultra video card) and I got better performance than I was lead to believe from my reading about Source elsewhere. I get framerates comparable to the current version of DoD with all the goodies turned on. I am sure there will be some people out there with older machines that will have difficulty, but I think some of you may be surprised at fps you can get with the graphics turned down a bit.


In short, as a player, I am very impressed with the Source Engine. Since I am not a big fan of CS, the chief result of seeing CS:S was to make me very eager for Day of Defeat:Source. The much more fast-paced and team-centric gameplay of DoD on the very cool Source Engine will be something to see.

Running a CS:S Server

In the run-up to HL2 I have been very concerned about the server load the Source engine would place on our game server. Of course, we at SunLit are very fortunate to have an excellent dual-processor AMD64 Opteron server with 2 GB of DDR and a fast connection from FrontLine Game Servers. I knew our machine would run it. The question I had was how many instances could I run? Would we be able to run Source-based servers and still keep our older game servers as well? When we ran a Call of Duty server, the machine handled it OK but it used twenty to thirty percent of CPU time just by itself! All seven of our HL-based servers used one-third that much! If Source-based games were similar to CoD, then we could run maybe two Source servers, and that's it.


Well, after some difficulty setting up the server (mostly due to my stupidity, but geez they could make the process a bit less convoluted), I have now had a chance to observe the CPU utilization levels on our game server first-hand. The picture at left shows a graph of CPU utilization with the new CS:S server running with 20 players. At the time that screenshot was taken, there were also about 4 players on SM, 10 players on the Annex, and 2 players on HL Rally. This represents a medium level load for us.

As you can see, the CPU utilization was hovering around an average of 5%. This is nearly unchanged to what it would have been with no CS:S server running at all, and the same number of players scattered around our other servers. This is very good news. We will easily be able to keep most of our old servers based on the HL1 engine while we add some new servers for the Source-based games, as they come out.

From my particular viewpoint as a server admin, there are two things sorely lacking for Source at the moment. The first thing is some sort of administrative tool like Admin Mod or AMX Mod to allow our Enforcers to easily enforce the rules, and so we could add plug-ins for TK management, voting, etc. Unfortunately there are no such plugins available whatsoever right now. We'll have to wait for Valve to release the Source SDK to developers, and then for them to come up with all-new plugins. I think it may be a while.

The other thing I really wish we had was a Source plugin for a website application we use called "phpUA." PhpUA is the web app that allows us to show real-time server data on our home page and our server status pages (the current map thumbnails, number of players, etc.). The people at phpUA have not written such a plugin, and so we can't display real-time information on our CS:S server yet. I don't think this will take nearly as long as writing a whole new Admin Mod plugin, for instance, so hopefully we won't have to wait long.

As a server operator, I have to say I am very pleased with the Source Engine. Huge kudos should go to Valve for making a game engine which is extremely efficient in its use of server resources.

The SunLit Counter-Strike:Source server can be found at:

Servername: SunLitCS
IP Address: 67.18.13.94: 27095



| | |
| --- | --- |
| Friday, October 08, 2004 | Comments? |
The very first game to use the new HL2/Source Engine has been released today, as I'm sure many of you know.

I have been very anxious to see how much server resources the new Source Dedicated Server Engine uses server-side. So I've set up a CS:S server.

Servername: SunLitCS
IP Address: 67.18.13.94: 27095

We may or may not keep this CS:S server around after Day of Defeat: Source is released. For now, it's a good opportunity for us to test out the game and for those of you who are curious to try out the new CS:S game on a SunLit server.


| | |
| --- | --- |
| Thursday, October 07, 2004 | Comments? |
Tomorrow (Thursday) at 11 am PST, the Half-Life 2 Steam offers will be ready for purchase.
Those who purchase via Steam, will receive the final version of Counter-Strike: Source immediately.
Half-Life 2 and other games in the Steam offerings will be made available to purchasers upon their release.

ATI/Half-Life 2 bundle owners may redeem their product key for the Bronze offer or apply their key toward the purchase of either the Silver or Gold offers, receiving a credit equal to the price of the Bronze offer.
Read more below


I'm doing an experiment on the Futurama Server today. You may notice it going on and off line as I work on it, make changes, and restart it. Don't panic :)

If anyone is curious, I'm trying out AMX Mod. We'll see how it goes.


| | |
| --- | --- |
| Saturday, October 02, 2004 | Comments? |
Yes, Steam Log On is broken.
Source
Its not your PC so be patient...again....sigh


| | |
| --- | --- |
| Tuesday, September 28, 2004 | Comments? |
The SunLit Day of Defeat Map Pack #13 has just been released. You can download Pack #13 from our DoD Map Pack download page.

The new pack includes some remakes of some old favorites, including dod_belgium (completely re-skinned), dod_fury_b4, and dod_sampol3.

There are also some completely new maps (or at least completely new to SunLit :) ). Some of the new maps are dod_density_b4, dod)snowcity_v3, and dod_united. They all look like fun.

The new maps are running on the Annex. You can see the mapcycle here.

Enjoy.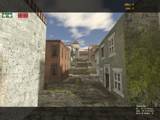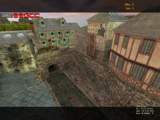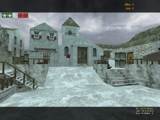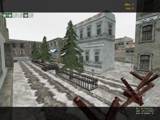 | | |
| --- | --- |
| Sunday, September 26, 2004 | Comments? |
Futurama will be running Diversion today for your fragging pleasure.


| | |
| --- | --- |
| Sunday, September 26, 2004 | Comments? |
HL2 as a release candidate is imminent but more drama is on the horizon.
Vivendi is angling to protect its distribution rights and could delay the release of HL2 another 6 months.

Half-Life 2 held hostage?
Court filings show VU Games has the right to sit on finished Half-Life 2 code for up to six months.
Could it be deja vu all over again?

Read More


| | |
| --- | --- |
| Saturday, September 25, 2004 | Comments? |
**UPDATE**
Steam has "patched" the problem for custom map model files.
Still cant use the custom CAL xhairs or any custom weapon models but at least can still play on custom maps .
Steam Client Update Released
September 22, 2004, 10:56 am · valve
An update to the Steam client has just been released. Steam will update itself automatically when you restart. Here is a list of the changes:

STEAM CLIENT CHANGES / ADDITIONS:
* Fixed game launch problem caused by customized game content
Update: In order to expedite the fix for crashing caused by custom content, Steam is temporarily ignoring custom game content. The use of custom content will be re-enabled as soon as possible.
---------------------------------------------------
The problem appears to be related to the latest Steam Update and Custom content

A very quick and dirty fix is as follows:
Delete decals.wad file from dod folder
Delete CAL or any custom crosshair from sprites folder
Delete any custom weapon models.
Note: It has been reported that the v_*.mdl may still work and not p_*.mdl or w_*.mdl.

Rename custom Sprites, Sound and Sounds folders to *_custom.
Make new folders of the same names.
You should now be able to connect to stock maps

Reinstalled dod_railroad , its good (CAL map)
Reinstalled dod_diversion, also good (SLDL week 5)

Forum post on the Steam and DOD forums suggests the issue is limited to custom crosshairs and sounds .
It will take some experimenting to isolate the exact file(s)


| | |
| --- | --- |
| Wednesday, September 22, 2004 | Comments? |
If you have updated STEAM this evening and cant connect to anything but CS and CS:CZ, dont panic and dont reinstall.
Its the usual STEAM fiasco. It appears to be a huge issue and hopefully Valve will deal with it swiftly.

***Update***
The question of cutom models has arisen. If you are crashing to desktop, you might want to post your particulars on the Steam site.


| | |
| --- | --- |
| Tuesday, September 21, 2004 | Comments? |
First, our game server is down for 30-60 mins for maintenance.

Second, I have decided to go ahead and leave the CoD/HoB server off permanently. The problems with heavy CPU utilization persist, and there still aren't that many people playing it. See the thread in the forums for more details if you're interested.


| | |
| --- | --- |
| Tuesday, September 21, 2004 | Comments? |